Add a header to begin generating the table of contents
Meticulous inventory management is the lifeblood of any successful event rental company. You must have a bird's-eye view of the entire inventory management process, from procurement to end-of-life.
Are you facing challenges deciding which inventory to carry, how to track what is in stock, out on rental, or damaged? Are you getting lost in various spreadsheets and financial systems? Are you looking for an integrated one-stop solution? Then keep reading this inventory management best practices guide.
Which event inventory should I buy?
There are a few factors to consider when buying event inventory.
Everything starts with the budget. It is essential to have a clear understanding of the available budget for the procurement of event inventory. Bear in mind that a portion of the budget must be set aside should it be necessary to buy more of a specific item and maintenance and price escalations. Once you've determined the budget, it is time for some research and footwork.
Study the market. Research the products and services offered by prospective competitors and try to find gaps in the market. Don't merely copycat the opposition, as this will not set you apart. Find a niche that will be a doorway into the market.
Know your customers. Determine the demographic your company is targeting and buy inventory that will suit their taste and needs. It is advisable to have a mix of trendy items and classics. This will ensure you are "with it" and innovative but that you also have a safety net of timeless classics that people will always fall back on.
Spend your money wisely. You have a wealth of information at your fingertips. Research leading companies to buy inventory from, compare prices and quality, and look for testimonials from customers who are satisfied with the service, costs, and quality of suppliers.
Do you have a hard time tracking your event inventory?
Do you sometimes feel overwhelmed and lost when tracking your event inventory for multiple events and clients?
Supplying the right items on time to your client is fundamental for customer relations and the success of an events rental company. You should know what equipment has been rented out, what equipment is in store, what equipment is reserved for upcoming events, and the quantities. In addition, it is essential to know exactly where items are in the storeroom and what the condition of each item is. Your credibility and reputation can be tarnished if you can't deliver on your promises every time.
Is it dizzying and somewhat unsettling? Investing in an integrated inventory management system will enable effective inventory management.
Do you know much money and time you could save if you had a process for event inventory?
If anyone should ask you to give a summary of all completed and planned events for the year, is that information readily available? Or would you have to work through numerous spreadsheets that might not be 100% accurate? Browse through endless emails and ask team members to source relevant information? Will you have to work through financial statements and gather information from various systems?
Not only is this time-consuming and distracts focus from higher priority work, but it is also an indication that there isn't proper control of the inventory process.
To accurately assess the performance of events, it is crucial to implement an inventory management process for the entire inventory value chain. Without an integrated inventory management and reporting process, it's impossible to determine the ROI of an event. An events company needs to optimize inefficiencies, streamline processes and continually improve ROI.
What types of event inventory assets should you be tracking?
With so many moving parts, in any event, you might be asking yourself what inventory assets you should be tracking. There are three inventory features you must track to ensure effective inventory management:
Asset check-in and check-out
A large number of major and minor items are required for an event. To maintain all assets, it is essential to have a system that tracks every item checked out and checked in. This will save a lot of time as you won't have to search for items that are not in stock. It will also reduce costs as no duplicate items will be purchased. Ultimately, it will reflect true inventory levels and enable control of these assets.
Monitor the state of equipment
Equipment shows wear and tear over time, even if it is high-quality items. Your tracking system should log the frequency of use and state of each item so that maintenance or refurbishment can be done timeously to prevent non-delivery or the procurement of unnecessary equipment. The tracking system should inform the maintenance schedule to ensure the longest possible asset life cycle.
Replacement of lost or damaged inventory
No matter how prudently inventory is managed, some equipment damage and loss will occur from time to time. An effective tracking system will contain an accurate inventory list with all relevant details per piece of equipment to ensure the insurance process can be followed effectively. This will save money as the insurance will cover damages, and equipment does not have to be procured from the budget.
By having a proper asset tracking process and software in place, you will clearly understand all inventory in stock and on rental at an event, compile effective maintenance strategies, and replace lost or stolen items via the correct channels. This directly impacts your bottom line.
How do you prevent lost or stolen items at your events?
To protect items from being lost or stolen at events, you must start by knowing exactly what items have been checked out for the event using a tracking process and system.
Once on-site, several preventive measures can be implemented. It is advisable to establish a parameter and ensure a 24/7-security presence. If it is a multi-day event, make sure that valuable items such as electronics, mobile phones and tablets, and portable equipment are safely locked up.
Immobilize large equipment such as generators by disconnecting them from their power source. Ensure adequate lighting – a well-lit area acts as a strong deterrent.
Allocate responsibilities, so that team members will know exactly who is responsible for which equipment. Upon completion of the event, items must be checked via the tracking system and cross-referenced to the check-out list to determine if all equipment has been checked in. If any equipment is lost or stolen, use the up-to-date inventory list for insurance purposes.
When should you consider inventory management solutions for your event company?
Whether you're a start-up or established organization; whether you manage large or small events; no matter your niche – an inventory management solution is fundamental to your business.
It will ensure proper inventory management, save time spent on high-priority tasks, support effective reporting and determining your ROI, and enable continuous optimization.
Don't wait; invest in the right inventory management software today.
What features should you look for if you needed event inventory software?
It is important to invest in inventory software supporting your event business throughout the entire value chain, from procurement of items to end-of-life. Some of the key features to consider when selecting the best software for your organization:
Inventory management
The inventory software must be able to track every asset. What items are checked out and which are in stock. This will prevent double bookings and the procurement of excess inventory. It should also track the state of the equipment and indicate when it is due for maintenance. In addition, it should track which items generate the most revenue and which items should be repurposed or sold.
With such a bird's-eye view of your inventory, you will be able to plan effectively, manage all assets, and deliver high-quality items to your customers on time as promised.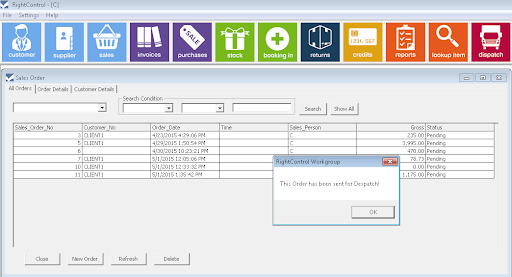 Calendar
It is important to have a dashboard calendar where all events at any given time are displayed. This is critical for effective planning, prioritization, and optimization of inventory.
Quotes and contracts
For effective integration, speed, and ease of use, the inventory software solution should incorporate the functionality to do real-time quotations, contracts, and invoices online.
Reports and dashboards
Customizable dashboards that track sales, high usage items, and revenue generation. This allows you to optimize and make the right strategic decisions for business success.
It should also include the functionality to draw tax and accounting reports, giving you ease of mind.
Client and team communication
The software must enable you to log all communication with your team and your clients. It can track where the communication is in the process, enabling you to follow up and communicate effectively.
Collaboration tools
Enable effective collaboration with a workspace where projects can be uploaded, tasks assigned, and feedback is given. This creates a single view of all project activities and progress.
No matter what type of event company you run, it is essential that you have the right inventory management software that will support your business throughout the value chain. Select software that will help you procure manage and maintain assets; that will save you time and money and provide you with information that will inform your business decisions. Software that will enable success.